Aminocore AMINOFER: correct iron deficiencies and stimulate plant metabolism
Aminocore AMINOFER shares the energy benefits of Aminocore BASIC PLUS while adding iron to correct iron deficiencies. The amino acids in Aminocore AMINOFER support the maintenance, growth, vitality and reproduction of plants. The product gives plants more energy (via the Krebbs cycle) and the amino acids serve as chelating elements for the iron molecules.
Amnocore AMINOFER contains 5% available iron, embedded in high amounts of freely available amino acids. This ensures rapid plant uptake via the leaves and that the plant uses the added iron more efficiently. The iron in Aminocore AMINOFER is non-oxidised (Fe++), which is the only form that plants can absorb. This makes Aminocore AMINOFER the best natural iron-correcting leaf formulation on the market.
Iron deficiencies are most common among plants growing in alkaline soils, and among acid-loving plants that are growing in soils with pH values that are insufficiently acidic. It is rare for an iron deficiency to be caused by a lack of iron in the soil and this makes correction using leaf sprays the most effective and direct solution.
Aminocore AMINOFER can be applied to leaf vegetables, fruit vegetables, strawberries, stone fruit trees, pome fruit trees, citrus, olive trees, vines, tropical fruit trees, industrial crops, field crops, etc. We recommend foliar application on sensitive crops like grapes and fruit plants during the pre-flowering period to support flowering and fruit setting.
Download the product sheet for more information or contact us about your specific requirements (e.g. MSDS sheets).
Download Product Sheet
Download the product sheet below or contact us about your specific requirements (e.g. MSDS sheets).
(please check your spam folder if you do not receive the download link)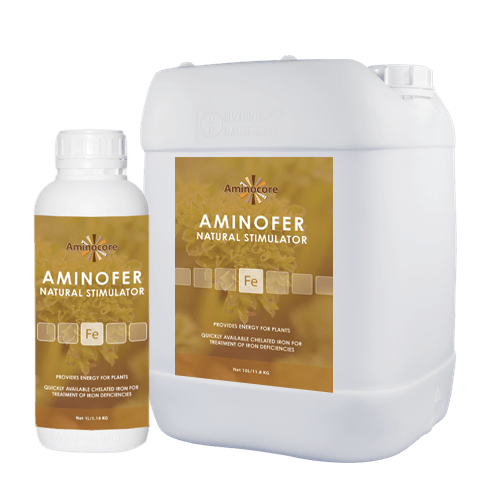 Benefits:
Easy to apply and efficient – just dissolve, spray and relax as it does its work
The natural chelating capacity of the amino acids makes the product highly effective
Best available product to relieve iron deficiencies in plants