Aminocore HUMICAL: help plants flourish in harsh conditions
Aminocore HUMICAL shares the energy benefits of Aminocore BASIC PLUS while adding microbial stimulation to provide everything you need to grow vegetables and flowers in regions with salinity problems and extreme conditions.
The natural chelated calcium in Aminocore HUMICAL is free of nitrate and chloride so the calcium absorbed by the plant goes directly where it is needed: the fruits or flowers. The elements in Aminocore HUMICAL can even be absorbed through the leaves, so this product can also be used to adjust or correct the calcium needs of your crop. As it stimulates the formation of solid cell walls, Aminocore HUMICAL also reduces the threat posed by pests and diseases. And solid cells give a better ornamental value and higher fruit quality.
The best time to apply Aminocore HUMICAL is when a crop needs a stimulus. It is also recommended when crops have been subject to adverse conditions and in treatments for plant recovery following critical periods such as transplants and damage due to frost, hail, wind, etc.
Aminocore HUMICAL can be applied to leaf vegetables, fruit vegetables, strawberries, stone fruit trees, pome fruit trees, citrus, olive trees, vines, tropical fruit trees, industrial crops, field crops, etc., and it is suitable for both foliar and drip irrigation. Aminocore HUMICAL is produced in conformity with EU Directives 834/2007 and 889/2008 and is listed on the FiBL Betriebsmittelliste as a natural fertiliser approved for ecological growing. It is an ideal addition to conventional fertiliser and crop protection products.
Download Product Sheet
Download the product sheet below or contact us about your specific requirements (e.g. MSDS sheets).
(please check your spam folder if you do not receive the download link)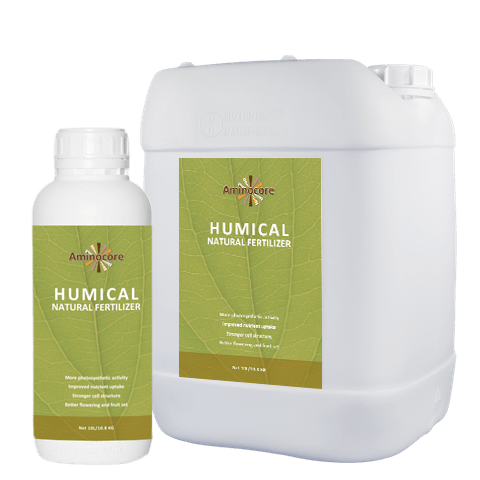 Benefits:
Increases photosynthesis activity and chlorophyll content
Increases nutrient uptake and utilisation rate of mineral nutrients
Stronger cell structure and greater cell stability
Increases plant resistance against salinity stress
Supports rapid recovery from critical situations
Improves fruit set and quality